The Meeting Venue Facilities, Services and Activities
Meeting Venue
The 7th UNAOC Global Forum, will be held at:
Baku Congress Centre
Heydar Aliyev Centre
Address: Heydar Aliyev Ave. 1
Click here to learn more about the venues
Note: The two venues are located opposite to each other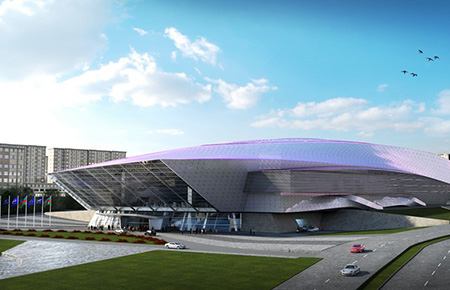 Baku Congress Centre
Getting to the Meeting Venue
Scheduled shuttle services will be provided only between the Forum's Venue and the recommended hotels (see ch5. Accommodation).
Participants not staying at the officially designated hotels will be responsible for arranging their own transportation between their respective hotels and the venues.
Information desk
The information desk will be set up at the Baku Congress Centre from 8:00 to 23:00 between 25 and 28th of April. Every participant must register prior to the beginning of the 7th UNAOC Global Forum. An information package regarding the event, including the Forum's booklet will be available at that time.
Interpretation services
The working languages of the Opening Session, Press Conference, 2 Plenaries, Group of Friends meeting and the Closing Session of the Forum are English, French, Arabic, Russian, Spanish, Chinese and Azerbaijani (please check the latest Programme). Breakout sessions, networking sessions and pre-Forum sessions will be in English, French and Azerbaijani only.
Bilateral Meeting Room
Bilateral Meeting Rooms for Officials and Head of Delegations will be available at the Baku Congress Centre at no cost for delegations on a reservation basis from 08.00 to 20.00 daily from 25 through 28 April 2016. Each room will be available in 20 minutes increments and can accommodate 12 – 16 seats. Delegates should allow 15 minutes between bilateral meetings for room refreshment.
Bilateral Meeting Rooms may be reserved in advance by submitting a completed bilateral Meeting Room Booking Form (Annex B). Bilateral Meeting Room may also be reserved onsite by either submitting a Bilateral Meeting Room Booking Form via email or visiting the information desk at the Forum's venue. Inquiries regarding bilateral meeting rooms may be directed to: baku2016@baku.unaoc.org.
Participants' lounge
Participants' lounge and a number of computers with Internet access and printing facilities will be provided at the Baku Congress Centre. Technical staff will be on site to assist participants.
VIP lounges in the Baku Congress Centre and the Heydar Aliyev Centre will be accessible by invitation only.
Medical Insurances and Services
The National Organizing Committee will provide a first-aid service for participants at the meeting venue and all the recommended hotels. All other medical services will not be covered. Participants are expected to assume the costs of any medical treatment that they might receive while in Baku. It is strongly recommended that medical insurance be purchased in your home country to cover you in Azerbaijan as well as any other destinations on your journey. The National Organizing Committee will not be responsible for travel and medical insurance costs of the Forum participants.
Basic modern medical care and medicines are available in several hospitals and clinics in Baku offering a wide range of medical services. Pharmacies are common throughout Baku and carry a wide range of medicine. Prescriptions are normally required. Payment at all medical facilities is due at the time of service.
Meal breaks
During the sessions and meetings, the Host country will generously offer meals and a continued coffee service to all participants at the Baku Congress Centre (please refer to the latest Programme).